Super Dino Weekend! May 25 – 27, 2012
2012
 
Night at the Museum Family Sleepover
Friday, May 25, 6:30 pm – 9 am
$75 per person – 10% discount for members
Ages 6 and up
Members: login and register online now
Non-Members buy tickets here
Travel back in time on an overnight adventure that you'll never forget! After everyone has gone home and the museum has closed its doors for the night, we invite families to join us in the Dinosaurs exhibition for an exciting night of discovery. Pancake breakfast, late-night flashlight tours, games, stories and activities and early morning Dino-yoga included!
Saturday, May 26, 1-2 pm
$5.00 – 10% discount for members
Members: login and register online now.
Non-Members buy tickets here
Newcombe Conference Hall
Want to be a famous dinosaur hunter? Join Dr. Philip Currie, one of the world's most well-known paleontologists, to learn about his discoveries and find out if you have what it takes to dig up history.
When he was six years old, Philip Currie found a plastic dinosaur in a box of cereal. His parents had to buy a lot of cereal so that he could collect the whole set! In grade five, he found a book in his classroom called All About Dinosaurs, and read what it was like to be a dinosaur hunter. He decided then and there to become a paleontologist. Today, he is a professor and is recognized around the world as a leading paleontologist.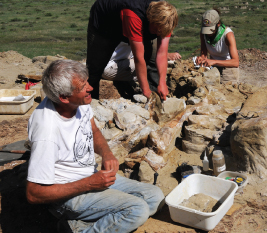 Sunday May 27, 10:30 am – 12 pm
$15.00 – 10% discount for members
Members: login and register online now.
Non-Members buy tickets here
IMAX Theatre
Join pre-eminent dinosaur scientist, Dr. Philip Currie, as he highlights recent advances in our understanding of how dinosaurs looked, moved, behaved and died. Find out how scientists are developing new technologies and ideas that continue to transform paleontology.
Dr. Currie is a Canada Research Chair at the University of Alberta in the Department of Biological Sciences, Adjunct Professor at the University of Calgary, and former Curator of Dinosaurs at the Royal Tyrrell Museum of Paleontology.
Sunday, May 27, 1pm – 3pm
Free with admission or membership.
Have you ever wondered who was faster… T-Rex or a Stegasaurus? Learn more about how your favourite dinosaurs moved and what they might have looked like. Help a dinosaur take shape in a mixed-media collage and learn about some of the dinosaurs living relatives.